Lift Thine Eyes
The decision to close the Northfield campus and consolidate NMH to the Gill school grounds was announced just before our 40th Reunion. Alumnae deliberated how to keep the legacy of Northfield alive. The concept to commemorate the campus in a book was offered; the Trustees supported this endeavor and expanded the mission. Lift Thine Eyes, an illustrated history of the Northfield and Mount Hermon Schools including over 300 images, was published in October 2010. It celebrates both campuses, demonstrates the significance of place, and tells the story of D L Moody and his schools. The timeline begins prior to the purchase of the land and extends to the consolidation that left our school as coeducation without the five-mile hyphen.
Four members of the Northfield and Mount Hermon classes of 1964 personally contributed to this book. Jim Ault scribed three chapters covering the years from World War I through consolidation on one campus. Bill Saunders captured the importance of the unique, natural setting of the campuses, the Northfield summer conferences, and Sacred Concert in our education. Gail Myers Pare and Sue Delaney McConchie served on the Advisory Committee and cochaired the Oral History Projects subcommittee. Thank you to these class members for preserving the historical evolution of Northfield Mount Hermon and rekindling our school memories/spirit.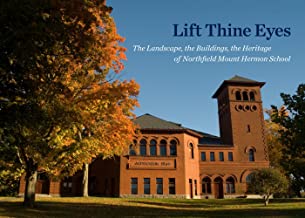 Lift Thine Eyes is available from the NMH Bookstore and from Amazon.com (NOTE: If you click on these links, use the back arrow to return to this page)
NMH Bookstore Description:
"Lift Thine Eyes tells the story of how the Northfield and Mount Hermon schools came into being—how they prospered, met challenges, and evolved into the NMH of today. Eight alumni authors reveal the school in a new light. They explore how the campuses were shaped by D.L. Moody, by the country's finest architects and landscape architects, and by the land itself. The book also chronicles how NMH responded to change, including the complex influences that led to consolidation on the Mount Hermon campus. More than 300 archival photographs, maps, and architectural drawings, plus stunning contemporary images, make this Northfield Mount Hermon document a visual and historical treasure."
Amazon.com Description:
"Nineteenth Century Evangelist Dwight Lyman Moody believed that the schools he founded were the best work of his life, closest to his heart. The story of how Northfield Seminary for Young Ladies (1879) and Mount Hermon School for Boys (1881) grew and evolved over time into the current Northfield Mount Hermon brings knowledge and inspiration to theologians, academicians, landscape and building architects, and planners in many fields as well as memories to those who lived and studied on the grounds and in the buildings. Closely documented and liberally illustrated, Lift Thine Eyes: The Landscape, the Buildings, the Heritage of Northfield Mount Hermon School is not to be missed."